There are investigations.  And there are "investigations."
BEIJING — An official from a Chinese state-owned enterprise died after an accident while being investigated for possible violations of Communist Party discipline, according to a report by China Daily, an official English-language newspaper.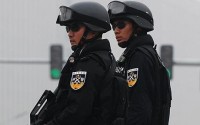 The official, Yu Qiyi, died on Tuesday in Wenzhou, Zhejiang Province, according to the report, which cited the People's Procuratorate of Wenzhou. He had "suffered an accident" on Monday night during the investigation and died after being sent to the hospital, the report said, noting that he had been born in 1971. …
Mr. Yu was under a kind of detention called shuanggui, an opaque process under which, the report said, "Party and government officials are asked to confess to wrongdoings at stipulated times and places for serious violations of Party discipline and State laws."
So imagine a weird parallel universe where the Democratic National Committee (DNC) appoints the U.S. President, Congress and the Judiciary.  The U.S. government owns or otherwise controls most large industries in the country.  The DNC grants ownership or management rights to DNC members to run those state controlled factories, phone companies, etc.  But if the owner causes some embarrassment, he gets brought up on an ethics complaint.  There is an inquiry.  The ethics inquiry involves torture to get an admission.  And the DNC official dies while being detained by the DNC.