Reposted from The New York Times

*****
France Seeks Slower Pace of Negotiations for a U.S.-Europe Trade Pact
David Jolly  |  March 25, 2013  |  The New York Times
PARIS — If anyone thought working out a free-trade agreement between the United States and the European Union was going to be easy, France has a message: Slow down.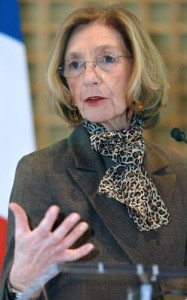 "We will all win, provided we don't rush," the French trade minister, Nicole Bricq, told journalists on Monday after meeting with French business leaders. She said that a trade agreement, which would create a zone accounting for 40 percent of world trade, could provide a "formidable" lift to jobs and economic growth, but that the European Union should use access to its market, the world's largest, as leverage to ensure it obtained a good deal.
She also suggested that a plan to have the 27 members of the bloc provide the European Commission with a mandate for negotiations by mid-June could turn out to be too ambitious, saying, "This is a very tight schedule."
Efforts to bolster global commerce under the auspices of the World Trade Organization have gone nowhere in recent years, so many nations are seeking bilateral agreements. Ms. Bricq was speaking Monday not long after officials in Tokyo and Brussels announced the start of negotiations for a Japan-Europe free-trade area. In addition to the economic benefits from reducing barriers to business, officials in Washington, Tokyo and Brussels have expressed hope that such arrangements will allow them to form a common front to set global trade rules in the face of a rising China.
Ms. Bricq appeared to be seeking to lower expectations that were raised last month by European and United States officials, including President Obama, who endorsed a trade deal in his State of the Union address, and Ron Kirk, the United States trade representative, who said an agreement was possible before the end of 2014. European officials, including the trade commissioner, Karel De Gucht, have also sounded optimistic about the prospects for an agreement.
Germany and Britain have signaled eagerness to reach a deal, but Ms. Bricq, a member of President François Hollande's Socialist Party, sounded considerably less enthusiastic.
She said any agreement would have to overcome a number of problems, including a "red line" on "l'exception culturelle" — France's insistence on special treatment to protect its homegrown culture.
"We want to exclude from the negotiations everything that concerns culture," she said.
She said other potential deal-breakers included Europe's opposition to genetically modified crops and the use of hormones in meat, practices that are common in the United States. And any accord would have to pass muster with trade unions and with the European Parliament, she said.
France's caution notwithstanding, the European Union and its trading partners are considering measures that would have been unthinkable just a few short years ago. The free-trade talks between Europe and Japan are a case in point.
Prime Minister Shinzo Abe of Japan; the European Council president, Herman Van Rompuy; and the European Commission president, José Manuel Barroso, said Monday that they had agreed to work toward a "deep and comprehensive" free-trade agreement that would "stimulate economic growth both in Japan and in the E.U."
The three spoke in a conference call after a meeting that had been scheduled to begin Monday in Tokyo was postponed because of the crisis in Cyprus.
European leaders say a trade agreement with Japan would generate 400,000 jobs and add as much as 0.8 percent to the bloc's gross domestic product.
Mr. Abe, who took office last December, is eager to break down barriers with Japan's main trading partners as he tries to revitalize the long-stagnant Japanese economy. He said this month that Japan would join negotiations for the Trans-Pacific Partnership, a pact led by the United States that would encompass almost 40 percent of the global economy.
Mr. Abe wants Japanese exporters to regain ground lost to rivals, particularly in South Korea, which has already reached trade deals with the European Union and the United States. But he faces opposition at home from a powerful farming lobby, which has benefited from high tariffs on agricultural produce and argues that free trade will destroy the country's rural economy.
The agricultural tariffs deemed most critical to Japan will remain off the table in the trans-Pacific negotiations, Mr. Abe has promised. Tokyo could seek similar exemptions in talks with the European Union.
Ms. Bricq said that French companies, including most of the industrial sector, were largely in favor of opening negotiations with the United States and that most saw the harmonization of regulations — in areas like technical standards, chemical ingredients and intellectual property — as being the primary benefit. But the troubled French auto companies Renault and PSA Peugeot Citroën are opposed.
French farmers, she said, believed overwhelmingly that nontariff barriers were the primary concern and wanted to ensure that their American counterparts were bound by the same sanitation, environmental and animal welfare rules as Europeans.
Meat and egg producers, corn growers and ethanol producers want to be excluded from any tariff-reducing deal, she said, because they think Americans have unfair advantages in those areas.
The biggest problem to overcome, though, could be the question of reciprocity with the United States, she said.
She was particularly critical of "Buy American" provisions that oblige the government to buy domestically made goods when possible. The union says those measures have harmed European companies by excluding them from the public procurement market.
"The United States talks free trade," Ms. Bricq said, "but the practice is somewhat different."