I wrote last week of the Coalition for a Prosperous America's attempts to prevent relaxing the "domestic content" rules of the U.S. Export Import Bank.  This review of rules was required by the last authorization Ex-Im Bank authorization bill.  The multinational lobby successfully inserted the provision.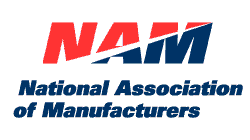 The National Association of Manufacturers was one organization seeking the change, to allow U.S. taxpayer funds to back financing for multinationals to export products with more foreign made content.  I don't have the link, but here is the NAM language from the letter.
"Domestic Content Rule Flexibility: Ex-Im's requirement that there be 85 percent U.S. content is hampering the ability of the Bank to finance exports that compete with foreign products and is resulting in the needless loss of U.S. jobs. We urge the committee to consider the realities of today's integrated global supply chains that in many cases preclude an 85 percent content. "
Taxpayers certainly don't want to finance foreign made goods for export, just because a multinational incorporated in the U.S. assembles the product.
If we are going to produce more in the U.S., and stem the loss of our production base of goods and food, we need public policy to promote this end.  The effort to change the ExIm Bank domestic content rules would be an anti-U.S. production change.