Reposted from ABCnews.com
*****
Susanna Kim | January 15, 2013 | ABCnews.com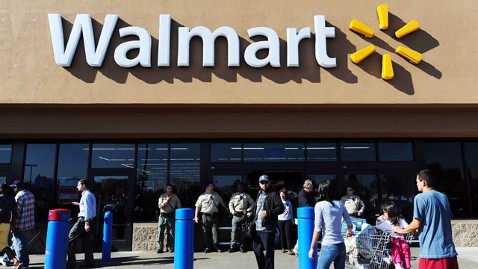 (Image credit: Frederic J. Brown/AFP/Getty Images)
Walmart announced today that it is increasing the sourcing of U.S. products by $50 billion over the next 10 years, hoping to boost U.S. manufacturing and jobs.
Walmart, based in Bentonville, Ark., is the largest retailer and private employer in the U.S. with 4,601 stores and clubs.
In a speech at the National Retail Federation's annual convention in New York City, Bill Simon, Walmart's U.S. president and CEO, said Walmart and Sam's Club will buy an additional $50 billion in U.S. products over the next decade by increasing what it already buys and helping onshore U.S. production in "high potential areas like textiles, furniture, and higher-end appliances."
Michael Keara, equity analyst with investment firm Morningstar, said the announcement was a good public relations announcement, given the negative press lingering over Walmart's bribery scandal in Mexico.
But Keara said it has "little impact" on his financial analysis of the company.
Keara said the $50 billion was "very little, and it's over 10 years" for a company that makes about $400 billion in sales worldwide annually.
In its last earnings report, Walmart said its net sales for the third quarter rose 3.4 percent to $113.2 billion, from $109.5 billion in the third quarter last year.  Its earnings were $3.63 billion, up 8.7 percent from the same period a year earlier.
Walmart said there is a "popular misconception" about where it sources the majority of its products.
"According to data from its suppliers, items that are made here, sourced here, or grown here account for about two-thirds of what the company spends to buy products at Walmart U.S. The company sees room to do more," the company said in a statement.
A company spokesman said the company does not break down the percentage of products sourced in the U.S.
Scott Paul, president of the Alliance for American Manufacturing said, "If Walmart's 'Made in America' announcement is real, it's a game changer. No company drives retailing trends like Walmart."
"Ideally, Walmart's and Sam's Club's pledge of increased domestic sourcing will include higher-ticket items like appliances and apparel, and not simply more of the current paper goods and vegetables that are made in the U.S.," Paul said.
In 2012, grocery and consumables comprised 55 percent of Walmart's net U.S. sales. The next highest was entertainment with 12 percent. Health and wellness products comprised 11 percent of the business and hardlines, including sporting goods, at 10 percent.
Apparel sales make up 7 percent of Walmart's U.S. business last year.
"We can do so much more by working in partnership – as an industry and with governments," Simon said in a statement. "I've talked with a number of governors, including the incoming chair of the National Governors Association, Oklahoma Governor Mary Fallin, about how governors and retailers and manufacturers can drive this issue together. Governors from both sides of the aisle are enthusiastic about getting their constituents back to work."
A statement from a nonprofit group called the Institute for Local Self-Reliance, based in Washington, D.C. and Minneapolis, said Walmart's statement "raises several critical questions about how the company defines domestic sourcing and how this can be measured in an publicly accountable way."
"No other company has played as pivotal a role as Walmart has in the demise of U.S. manufacturing over the last 30 years," senior researcher Stacy Mitchell said in a statement. "Its relentless insistence that suppliers provide ever lower prices has forced countless companies to shift production overseas, eliminating jobs and undermining America's industrial capacity."