Despite 30 years of trade deficits sucking demand out of the U.S. economy, you still have a declining but powerful cliche of free trade utopians that get hives and anxiety when someone talks about smart trade.  Then they try to kick you out of the club.
When I was at a Trans Pacific Partnership negotiating round last year, I started explaining the merits of balanced trade to a State Department employee.  He became emotionally upset at the challenge to the failed Washington trade (deficit) strategy, turned on his heel, and marched away.
It is inevitable that we will get smart about trade, because "if something cannot go on forever, it will stop."  The question is when.
Even a chieftain of industry is subjected to schoolyard bullying when he does not toe the line.
As Dow Chemical's chief executive, Andrew N. Liveris has made himself into something of an outcast among his fellow business leaders.
Liveris has been vocal in supporting a pro-U.S. trade and production strategy for the entire economy, not just energy.  Dow Chemical has been investing in the U.S., relying on locally inexpensive energy to add value and produce finished products.  You know.  Produce finished products.  Like China and Japan and Germany do.
Dow Chemical has assembled a list of more than 120 manufacturing projects, representing investments of $100 billion, that are being planned or are already under construction in the United States at least partly because of lower gas prices. The beginnings of the manufacturing renaissance Mr. Liveris imagines for petrochemicals, fertilizers, steel, aluminum, pulp paper and cement can be seen at its giant complex of plants in Freeport, Tex., the largest of its kind in the world.
The current flap is over whether the U.S. should export natural gas or utilize it in-house as a competitive advantage in producing finished goods.  Given that our biggest export items have been raw materials - like scrap steel and waste paper for recycling - it makes sense to veer away from being a low-end natural resource colony for foreign finished goods manufacturers.
"This is a giant turnaround," said Daniel Yergin, a longtime energy expert and author of a recent book, "The Quest: Energy, Security and the Remaking of the Modern World." "This is fundamentally improving the competitive position of the United States in the world economy."
So the knives are out among the free trade zombies who can't think beyond a cartoon version of Econ 101.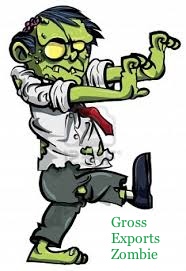 The debate has grown personal. In the words of Charif Souki, an energy industry executive promoting a new natural gas export facility, Mr. Liveris is both "self-serving" and a "hypocrite."
Ouch.  But there's more.
Mr. Liveris withdrew his company from the National Association of Manufacturers this year when his ideas clashed with those of other members, particularly Exxon Mobil, which hopes to convert a Louisiana gas terminal that was built to import the fuel to process exports instead. In an interview, Ken Cohen, an Exxon Mobil vice president, said that having a major business leader like Mr. Liveris supporting "protectionism" is so incongruous that "it's almost like man bites dog."

Mr. Liveris even came close to withdrawing Dow Chemical from the American Chemical Council over the export issue, until the trade group modified its pro-export position.
The thing is that we don't have a strategy in the U.S.  We don't want a strategy.  We are allergic to a strategy.  Even though we're getting economically killed by global rivals that have a strategy which results in persistent trade surpluses with the U.S. to grow on the backs of our consumers.  Liveris wants a strategy to be a valued added economy.
"Why should we gamble?" he asked. "I think we should be out of the gambling business on energy policy. I mean, we're not in the gambling business on food policy. We're not in the gambling business on defense." …

"The paint ingredients need the paint can," he
said. "The paint supply chain needs trucks. The trucks go to warehouses. Warehouses go to retail. I'm not importing finished goods. I'm making them in the United States of America."
Amen.